Archive for the 'Weddings' Category
This weeks Fab Find features a great website called MissNowMrs.com, and is designed to help brides transition from Miss to Mrs. with an easy and user friendly online name change solution. Founded in 2006, the website has helped over 150,000 with their name changes. The founder, Danielle Tate, designed the website as a result of her own personal experiences.

"… After several trips to government offices and quite a few tears, my husband and I decided that there should be a name change service that simplified the entire process for brides and newlyweds nationwide! My pain, your gain.
We've personally and painstakingly researched the name change procedure for each state and broken it into three easy steps: Questions, Forms & File. Your MissNowMrs.com account will guide you through all three steps in 30 minutes, saving you the approximate 13 hours associated with struggling through name change form research and completion on your own. Don't have everything ready? Don't stress, you can sign up now and you'll have up to six months to complete the process.
MissNowMrs.com is more than a website, we're a group of experts devoted to making your name change process a breeze. We make sure that your forms and filing instructions are the most up-to-date versions available. Consider us your name change fairy godmothers! Should you have any questions about your name change please feel free to contact us at support@missnowmrs.com or 800.301.9296 or via live chat."
The cost for the package is $29.95 and all it takes are 3 easy steps.
After you create your account, you'll go to the Questions Page, where you'll be asked a series of general questions. Based upon your answers, our intuitive service will ask you other questions based upon the requirements of your state and the appropriate forms.  Your answers on the Questions Page will be used to complete the appropriate forms, including Social Security, US Passport, State Driver's License, USPS and State Voter Registration forms, as well as letters to notify your creditors (credit cards and loans). You'll be able to preview and proof these forms within your account as they're completed.Once you have proofread your forms, you can click to print each form and its detailed filing instruction sheet. The instruction sheet includes the order of form submission, fees, required filing documents, office locations/addresses, as well as insider tips on how to file the easiest way possible.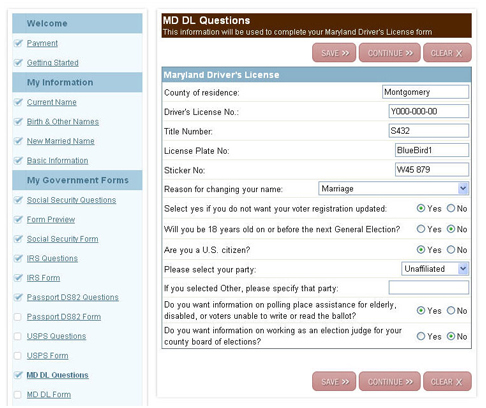 Gift cards can also be purchased on the website as gifts for the newlywed bride!
The website has been featured in numerous bridal and wedding magazines and blogs, including ours! Gift Cards can also be purchased at local supporting Davids Bridal Shops!
You can also follow them on Facebook at MissNowMrs and twitter @MissNowMrscom
Be sure to check it out- www.MissNowMrs.Com